The Hill of Uisneach is located in the center of Ireland. Many believe the catstone atop the 600 foot hill mark the spot where Ireland's five provinces – Ulster, Leinster, Connaught, Muenster and Meath – all come together.  It is an ancient meeting place, and a place of high earth energy.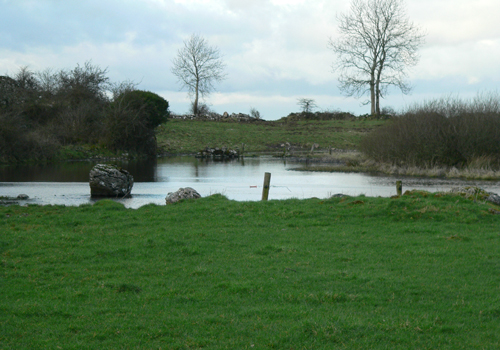 Most who drive down Route 390 going southwest of Mullingar in County West Meath wouldn't realize they were passing such thin place.  I know, because I passed it many times – and I was looking for it. But I found Uisneach.  I climbed the hill.  I was changed for having gone there.
When Traveling to a Thin Place – Listen for Signs from the Otherwold
Call it prayer, call it sensing … most of us know how to communicate spiritually.  The present world reacts to the eternal world in a thin place.  If we listen and look carefully, we can see the signs.
Many times I've been out looking for a particular place and find obstacle after obstacle thrown in my way… I get lost, there's an unfriendly landowner, the weather becomes harsh ….almost sending me a message to suspend my search and retreat.
But I never do.  Those signs only encourage me – let me know that the experience will be worth the obstacles – and my visit to Uisneach proved me right.  There were many obstacles, but the Hill of Uisneach was the single most powerful place I've ever visited.
Uisneach – My Heaven and My Hell
The hill looks like many Irish hills from the road, but as the climber ascends to the crest the magic reveals itself.  There are ring forts all over, and small lakes, wildlife, and if your senses are keen – many signs from the eternal world.
I was traveling alone when I visited the Hill of Uisneach.  It was a damp day and the ground was soft.  I had to stop in Ballymore and ask for directions. Once I found it and began climbing, I kept looking for the catstone, said to be on the top.  The stone is said to mark the geographic center of Ireland and the grave of the goddess Ériu, for whom Ireland (Eire) takes its name.  I never found the catstone… but my experience was rich.