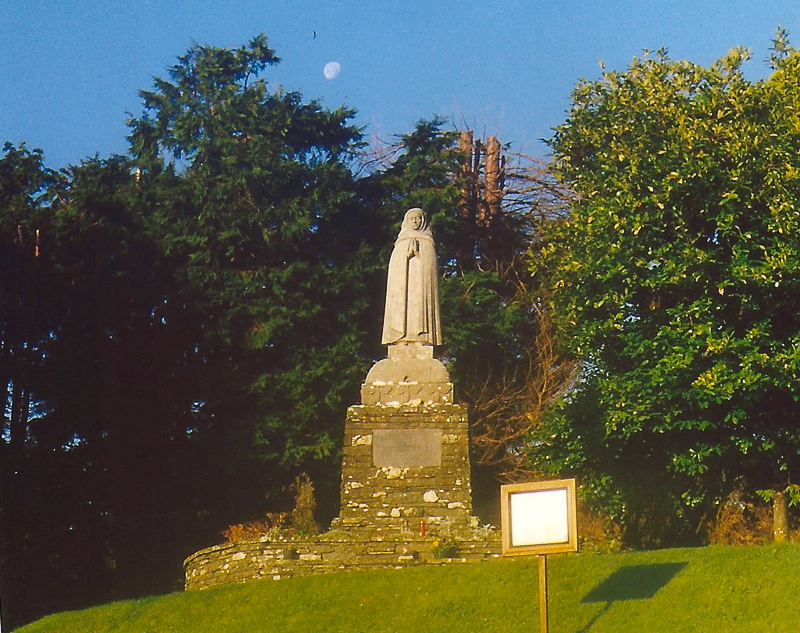 The Beekeepers' Saint – Gobnait of Beekeepers
St. Gobnait (Irish for Deborah or Abigail), the patroness of Beekeepers and healers, is celebrated in Ballyvourney, a small town in West Cork. Her Feast Day is February 11th.
In the early 6th century when Gobnait fled her home in County Clare, she went to Inis Oírr (the smallest of the Aran Islands). We don't know why she fled, only that she believed she would find refuge in the Aran Islands. Legend states that an angel appeared to her there and told her that her place was not on Inis Oírr, and instructed Gobnait to go on a journey – to seek her true place of resurrection. "Go until you find nine white deer grazing, " the angel told her. "It is there that you will find your place of resurrection." So Gobnait wandered about the southern coastal counties of Ireland – Waterford, Cor, and Kerry – searching.
She saw three white deer in Clondrohid and followed them to Ballymakeera where she saw six more. But it wasn't until she came to Ballyvourney to a small rise overlooking the River Sullane that she saw the nine white deer all together – grazing … just as the angel from Inis Oírr had prophesied. She crossed the river and settled there. She founded a religious community for women, performed memorable – some say miraculous – works, and it was there she died and was buried.
St. Gobnait's journey from Inis Oirr to the towns in West Cork including sites in Ballyvourney – her monastic settlement, tomb, and holy well are part of the Places of Resurrection tour.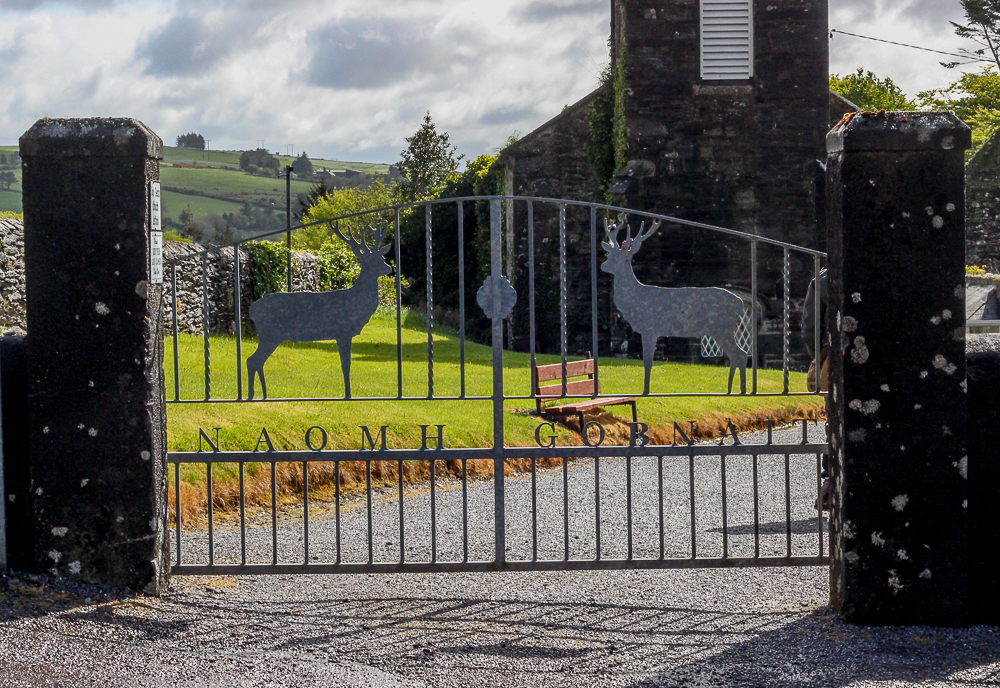 On February 11th (St. Gobnait's feast day) she is tenderly remembered in her native region. But she has also been proclaimed by the Irish bishops to be a national saint. There are shrines and places of devotion to St. Gobnait in all the places she is believed to have stopped on her journey – including Inis Oírr. But Ballyvourney – is that special place for Gobnait… the place she felt most at home, the place where she carried out most of her ministry. And Ballyvourney is the place that draws the greatest number of pilgrims devoted to this saint.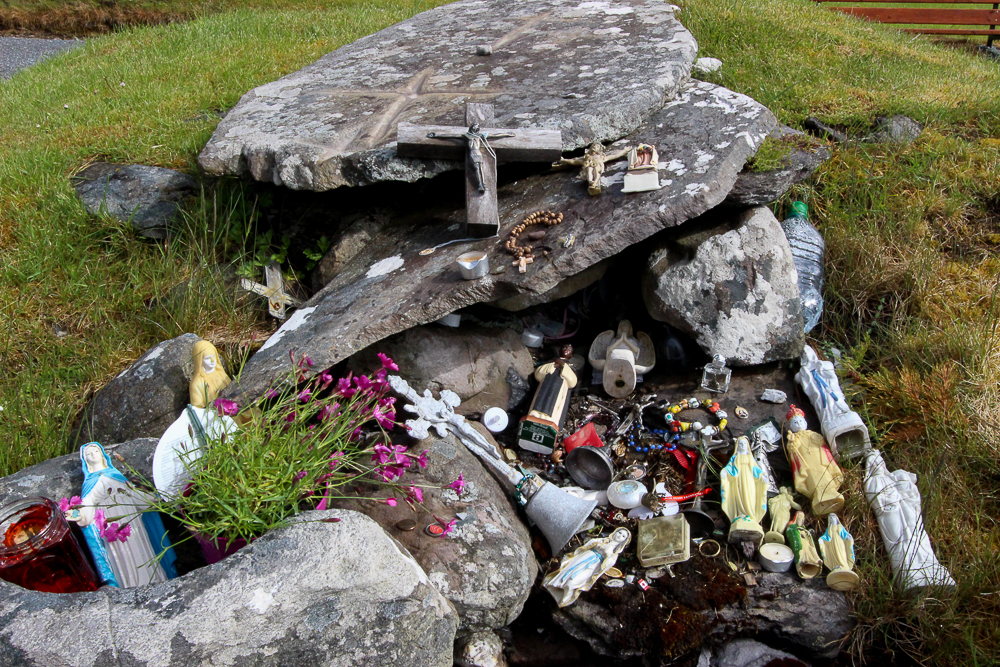 Today there is an active church on the former monastic site. St. Gobnait's grave and marked spots around the churchyard are places where pilgrims pause for devotion and reflection. It is here that they can do the "rounds" or turas, always moving in a clockwise direction – a tradition that has pagan roots. One of the strongest mystical draws on this site is St. Gobnait's Holy Well, with its arched entryway that takes the pilgrim into a deeply shaded path. Just next to the well is a sturdy tree, and hanging from it are hundreds of tokens or "clooties " that have been placed there by pilgrims hoping to leave behind a part of themselves or loved on in need of healing. There are taps and cups available for drinking from the well or for pouring into personal vessels to take holy well water home.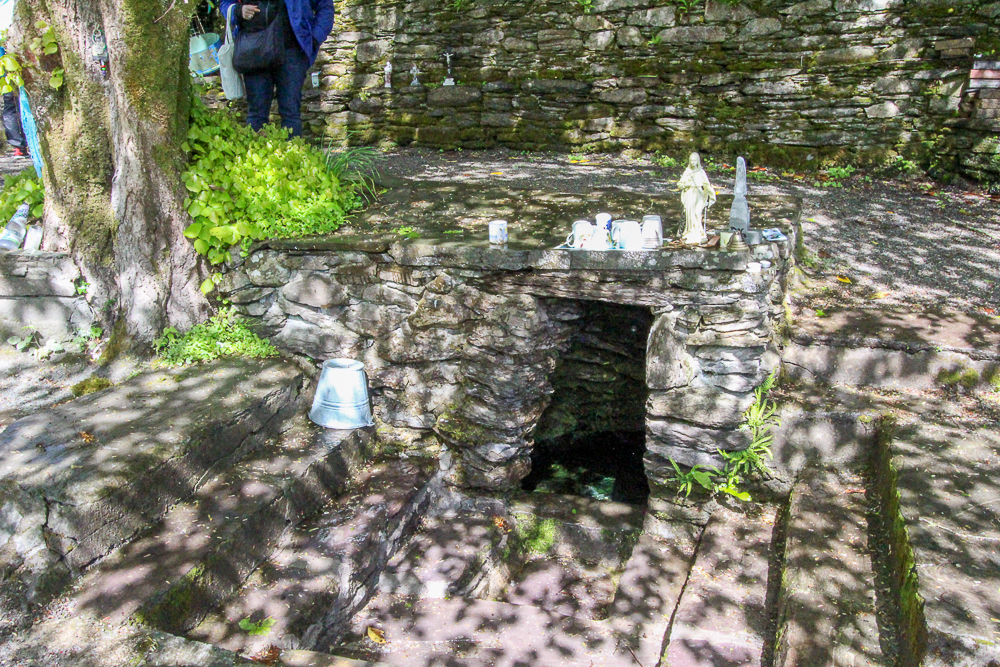 St. Gobnait was best known for her care of the sick. There is a legend that tells of her staving off the plague from Ballyvourney by drawing a line in sand with a stick and declaring the village "consecrated ground." Inside the church today, there is a medieval (possibly 13th century) figure of St. Gobnait which is kept in a drawer. Every year on her feast day, the parish priest brings out the figure to celebrate a devotional tradition. He holds up the ancient figure and the faithful each step forward with a piece of ribbon. They hold the ribbon up and measure it against the length and around the circumference of the figure, then take it home as a blessed relic used for healing or further devotion.
A tall statue of St. Gobnait that was erected in the 1950s stands near the monastic site. She appears with a nun's habit standing on a beehive surrounded by bees. Gobnait is the patron saint of beekeepers, and there are several legends recalling Gobnait forcing invaders out of Ballyvourney by setting swarms of bees upon them. It's probable that Gobnait had a close relationship with bees and used honey in healing efforts.
PLACE OF RESURRECTION
Dan and I visited St. Gobnait's monastic site many years ago. It is indeed, a thin place. The stories of St. Gobnait specifically mention a "place of resurrection." I heard Dara Molloy use this phrase when referring to his home on Inis Mór and have seen a few authors reference the phrase. But regarding thin places … a place of resurrection is the pinnacle – that place where one's spirit is totally whole, at home, with no longing or yearning to be anywhere else. A place of resurrection is not only the place where one's spirit will resurrect from its lifeless body upon death, but also the place where that spirit is most alive inside the living body. And I believe that a place of resurrection is the spiritual home where one is most completely alive and able to create, to discern, to prophesy … to be wise.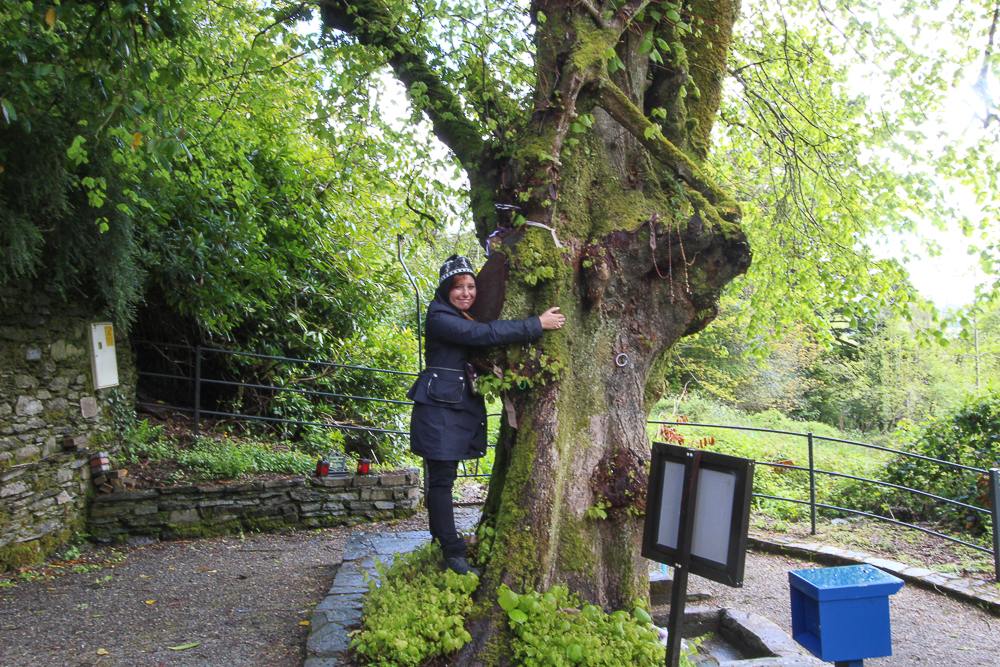 The connection between the eternal world and the physical is nearly unidentifiable in a place of resurrection – as they are knitted together in an inextricable pattern where neither can be separated from the other. The place of resurrection then is unto itself the combination of both worlds particularly suited to that specific spirit. … and Ballyvourney was St. Gobnait's place.
What is yours?