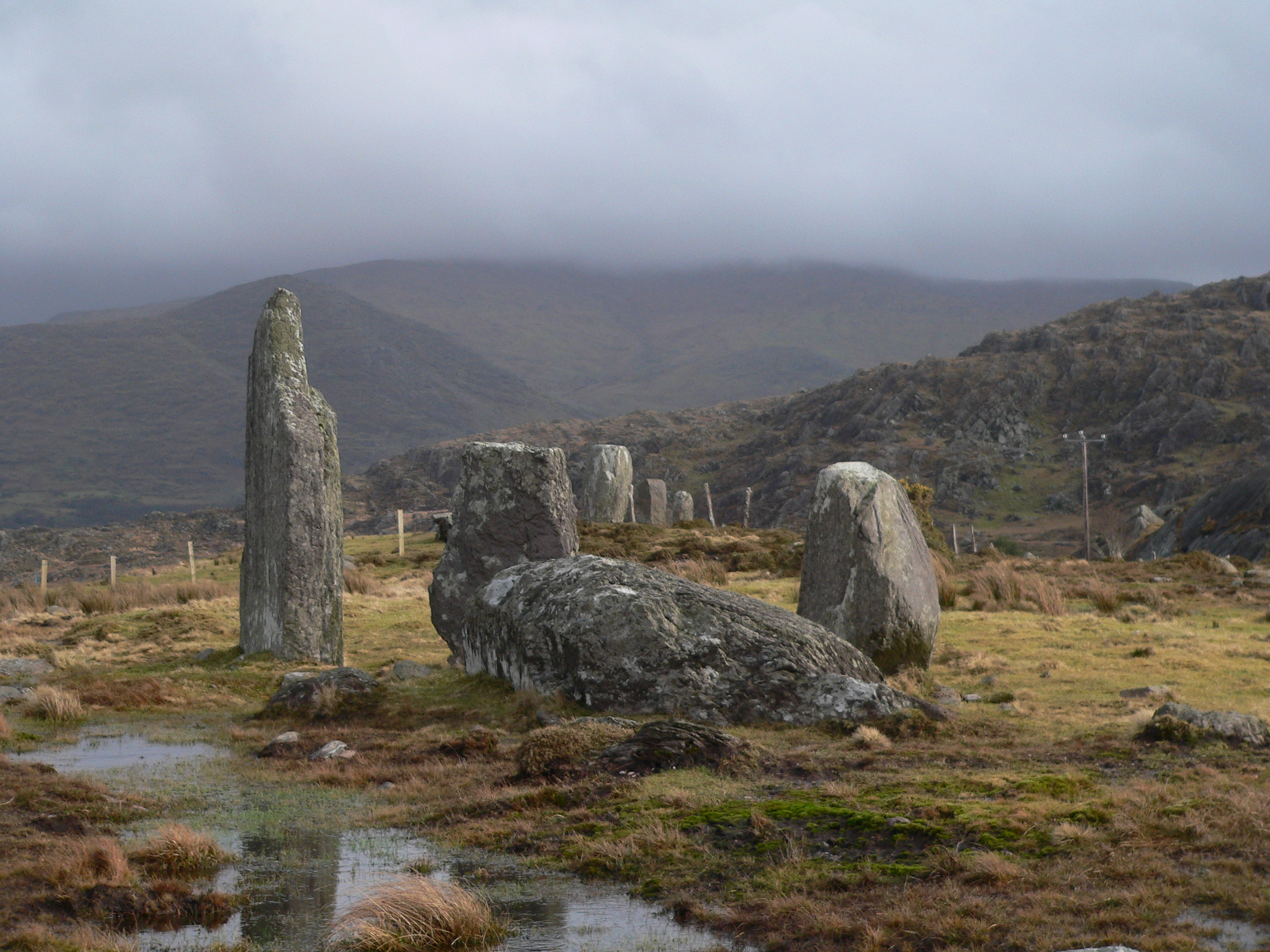 Nine hundred years before Christ was born, people of south western Ireland erected a group of alignment stones in a rocky outcropping on what is now known as the Beara Peninsula. The location was set along an ancient track, known as the Green Road, that spanned a good part of the peninsula, connecting communities. Only three stones remain today from the alignment group. Remnants of a smaller stone circle nearby mind pilgrims as they step into that thin place. The panoramic views near the alignment stones are vast, and one can see the sea in the distance.
Cashelkeelty Stone Circle is like no other I've visited. Though guide and reference books give it no significant rank over other circles, it has an existing spiritual presence that surpasses the others – at least for me. One can feel the history ascending the final hill along the Green Road. The first glimpse of the circle at the crest of the hill marks the point when time begins to stand still for the pilgrim… when that traveler coming to this place in the context of an ancient story steps into a higher level of her own existence.  I was overcome by emotion when I moved close to the tallest stone.  At eight feet high, this stone hovers over the others looking like a bard recounting a meaningful story.   I don't know how long I was there.  But the pictures I shot show I was there through a bit of a weather change – darkness, sunlight, fog, mist, rainbows, all shifting in and out of time.
It is impossible to take a bad photograph here.
I ascended the Green Road alone when I visited the circle. I was traveling by myself that rainy February afternoon. I studied the stones, standing in front of them – looking, staring. It's remarkable what you can see when you stop to notice details. I noticed scores of coins that had been tucked into the stone crevices – coins from many countries. I looked further and noticed cairns that had been erected by pilgrims near the stones, clooties left behind, tokens under stones – confirmation that I wasn't alone, at least not alone in knowing that this place was special.
Cashelkeelty Stone Circle is one of the sites on the itinerary of the Thin Places Mystical Tour this September. Come join us.