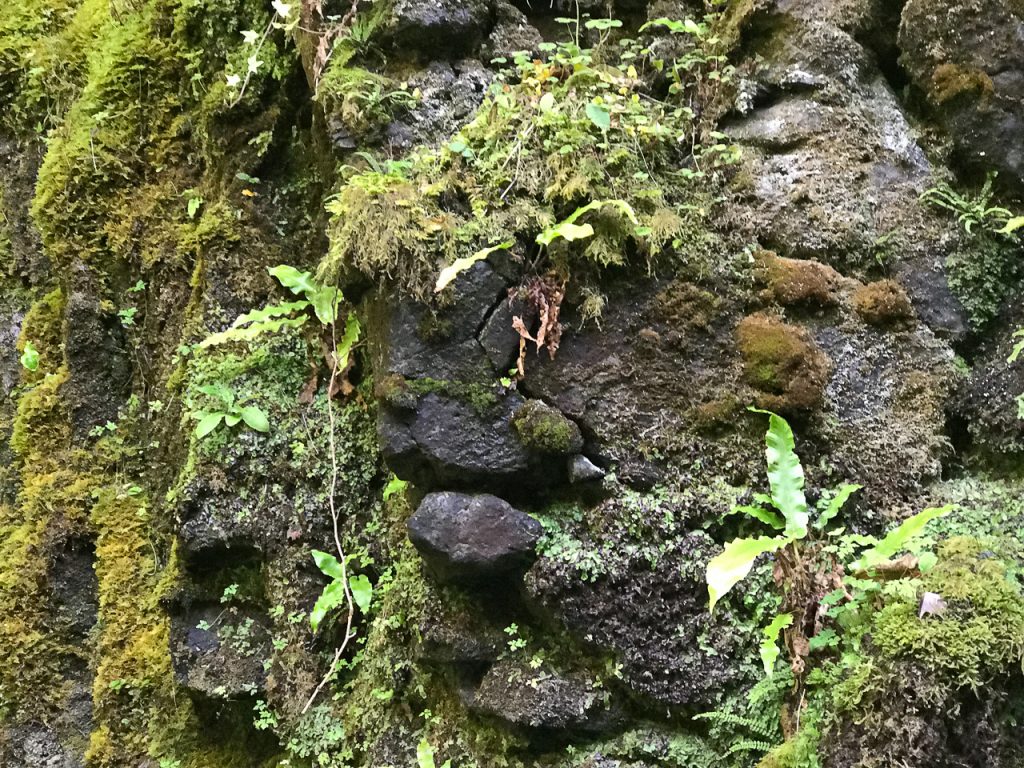 Forests and Woodlands tend to scare us. If they don't evoke fear they at least elevate our senses. The edge is defined. We feel it as soon as we cross from the open world into a woodland. The energy shifts – changes.
My friend, Wendy Mews leads tours to sacred sites in Brittany. Wendy led me through a forest near her home in Huelgoat and talked about "walking meditation." She said that she will tell her tour guests to walk in the forest as a group – but in total silence. And she instructs her guests to notice details in that silence, to be mindful of what the forest tells them. "What do you hear in your heart? What do you feel? What does the forest tell you?"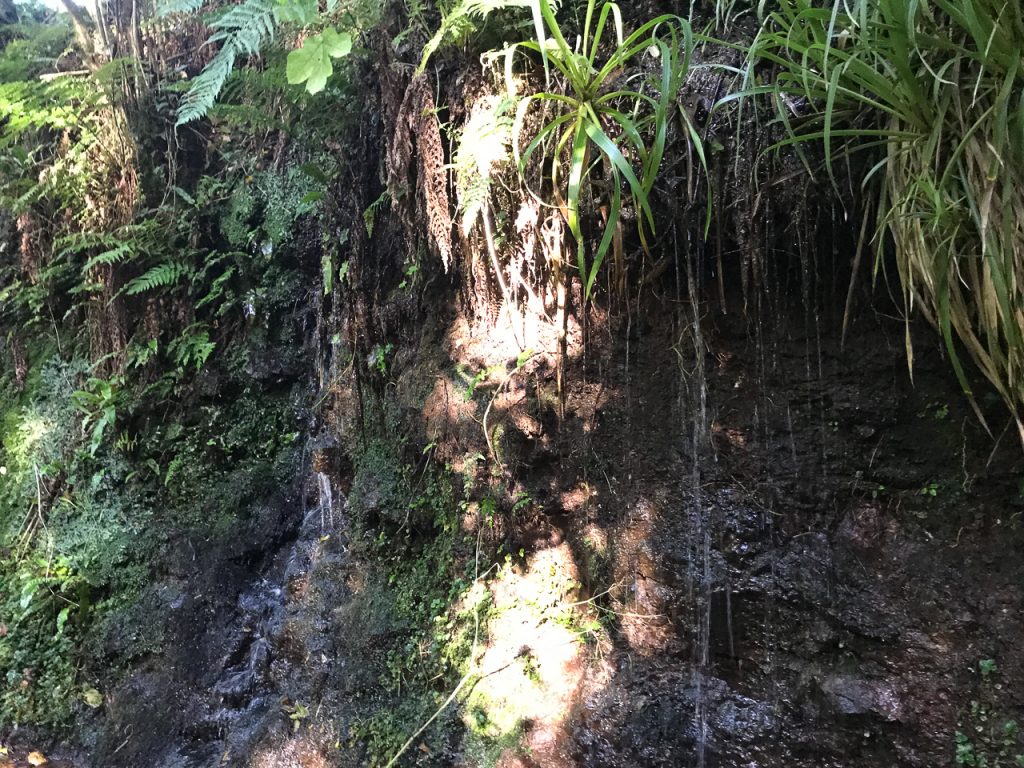 It's funny how a chance conversation can you change one's life. Since that conversation with Wendy, I've been unable to walk into a forest and not be mindful of what its telling me. I try to walk in silence…to notice details… to see what reveals itself.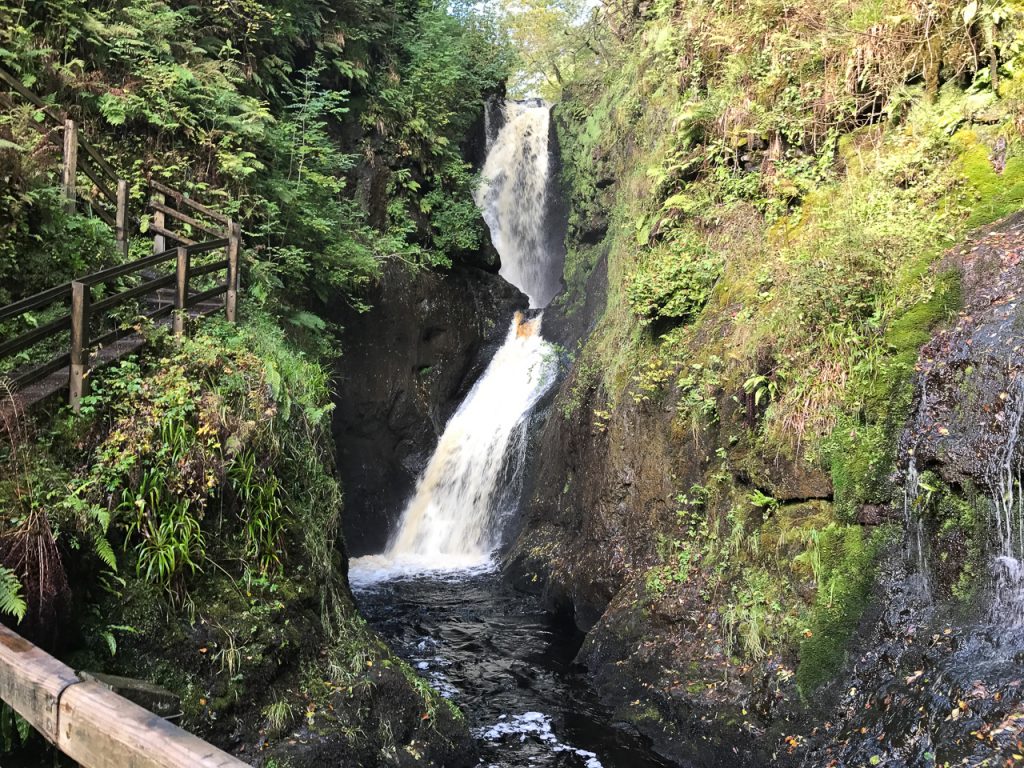 The Glenariff Woodland
In the Glenariff Woodland, there is a defined path that easy to walk. It winds into a gorge with rushing water, waterfalls, mist coming off of the rocks, all the mystical plants – ferns, ivy, holly, and a rare woodland plant known as "St. Patrick's Cabbage." The path is lined with oak, ash, willow and hazel trees.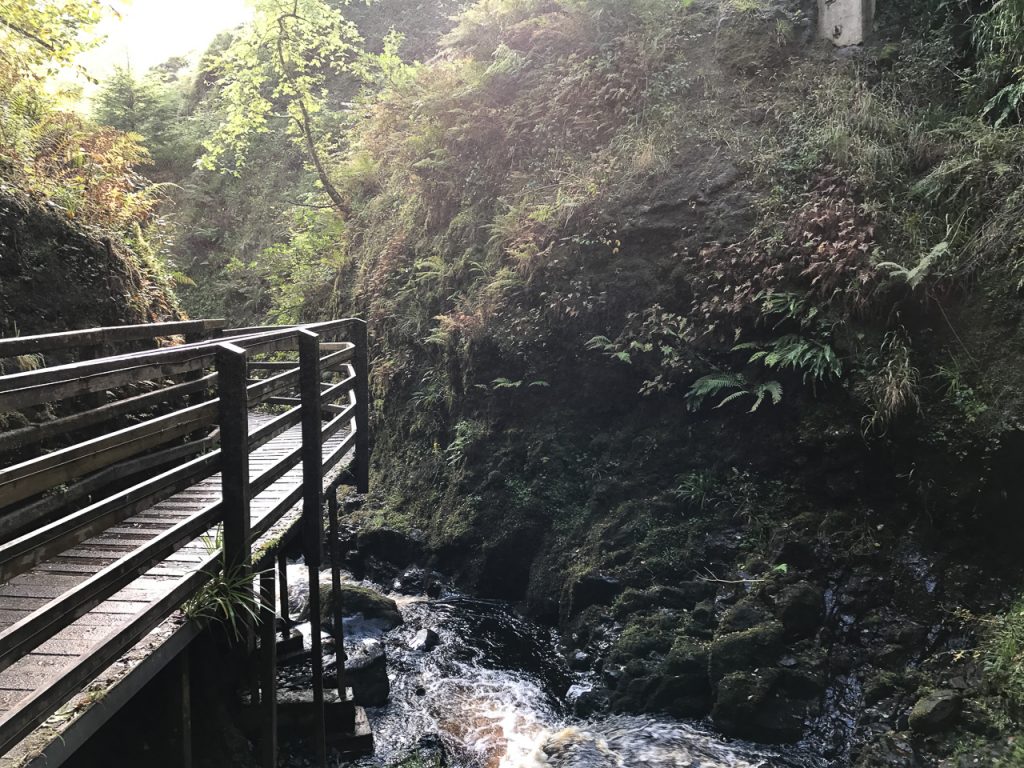 This forest was a stop on our Discover the North tour. I led my tour guests into this woodland and let them roam.
I stayed behind and then walked in silence…waiting for the woodland to speak to me.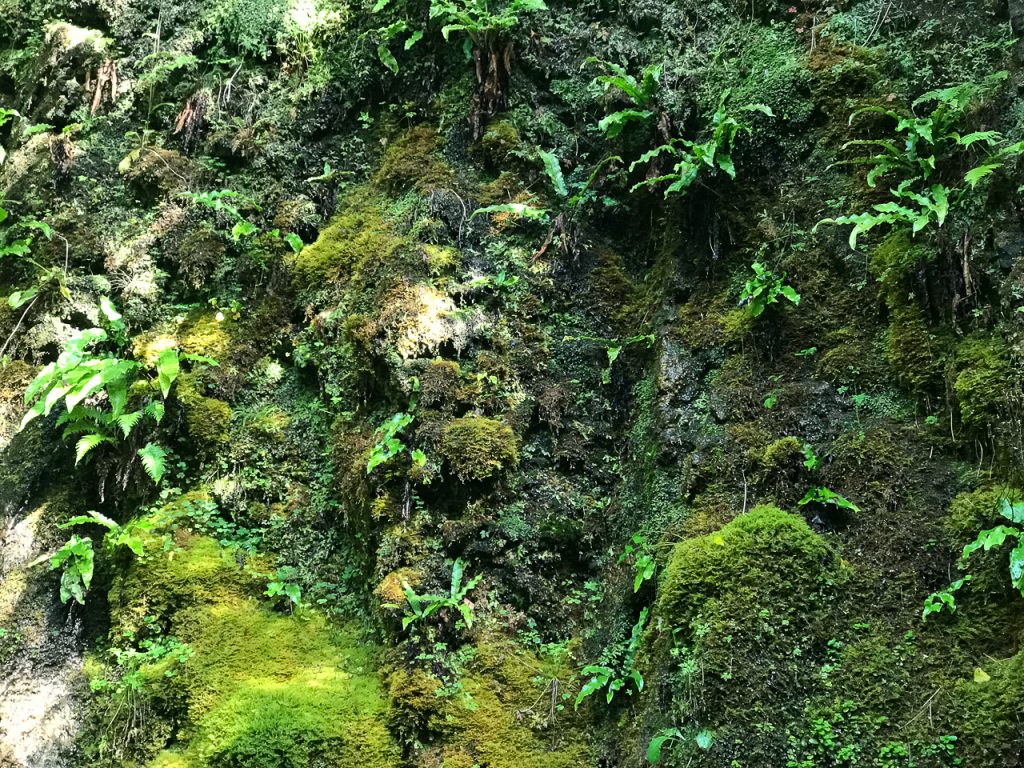 Faces in the Rock
There was a holy well along the path that had a few clooties tied to branches in the rock face.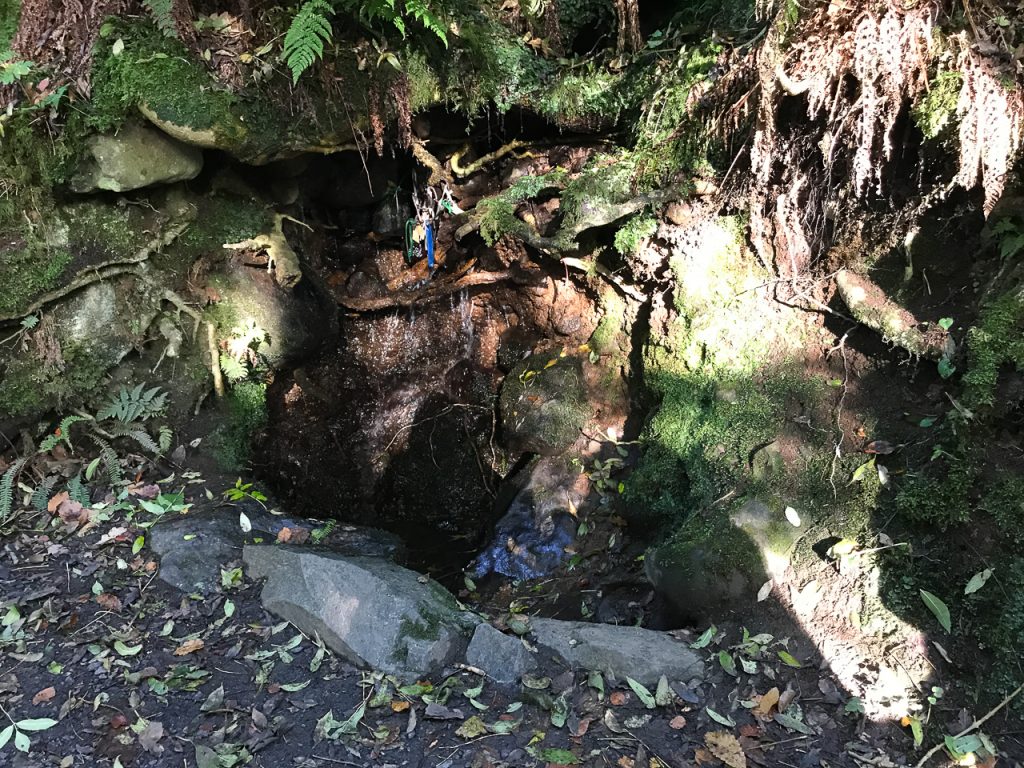 As my guests passed by me, they seemed to walk in silence too, though I hadn't instructed them or encouraged them to do so. They were all so happy in that woodland. I stopped for a moment where the gorge wall rose steeply above the path – almost perpendicular to where we stood. In that time of reflection waiting for the woodland to "speak to me" I started to see faces – hidden in the rocks, moss, ferns and the watery surface of the gorge  – – many faces. Faces made from the natural elements.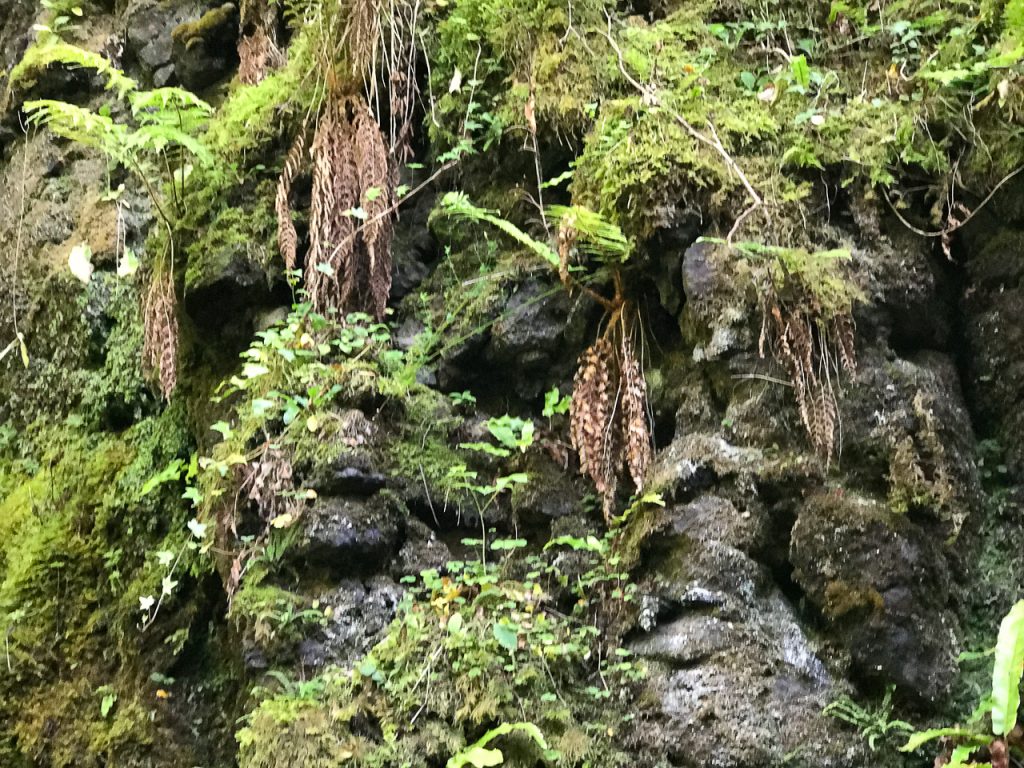 I pointed this out to my guests when they passed, and they saw them, but weren't moved by them – not like I was anyway.
The Glenariff Waterfall Nature Reserve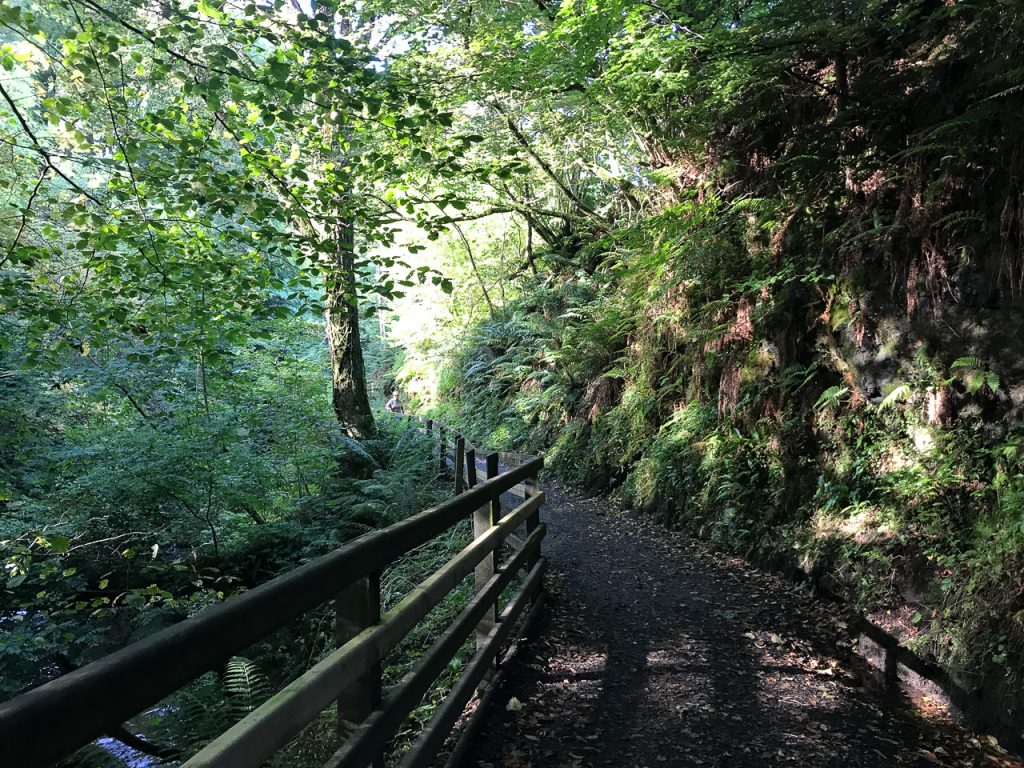 Glenariff Waterfall Nature Reserve is in the Glens of Antrim. Glenariff the largest of the nine Glens and many think it's the most scenic. This entrance to this woodland path is located behind Large Lodge,  a seasonal restaurant that has a wonderful ambiance and good food. You can park in the Lodge's lot, have a bite to eat and then amble along the gorge path. The complete walk is about 1.5 miles and has steps and gets steep at times. But those who can't negotiate the stairs can still enjoy the beginning of the trail.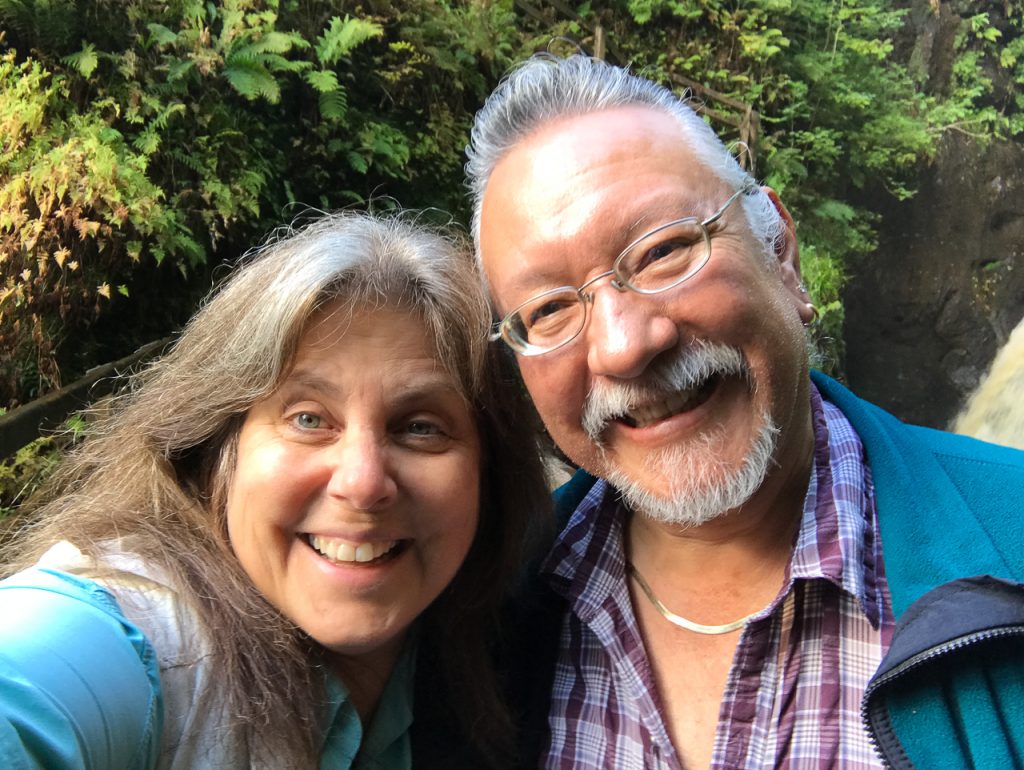 The waterfalls and woodland are magical.  Maybe you'll see the faces.
The Glenariff Woodland Walk is on the Discover the North tour of Ireland.