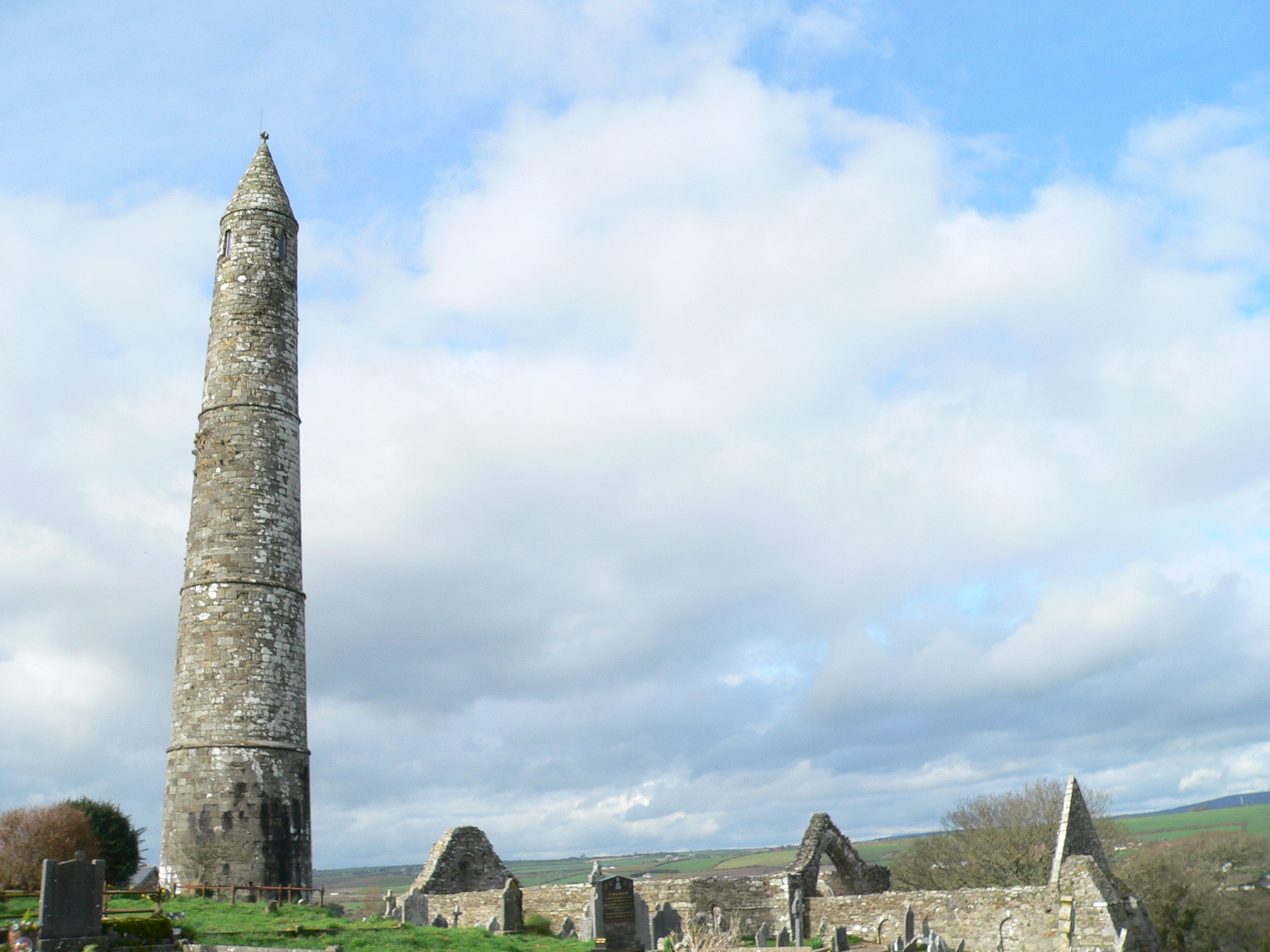 Ardmore is a fishing village in County Waterford – just over the border from County Cork. It is the legendary home of St. Declan who is said to have settled there somewhere between 350 and 420 AD, bringing Christianity to the island even before St. Patrick.  If this is true, it makes Ardmore the oldest Christian settlement in Ireland.
Ardmore from the Irish "Aird Mhor" means great height. The ruins of a 13 century church, an 8th century oratory and a well preserved 12th century round tower dominate a hillside overlooking Ardmore Bay, a fitting spot for Ireland's first monastic community.
Driving up the hillside one sees the 90 foot round tower rear up from the landscape like some old relic.  That's when the "thinness" of the place starts to sink in. Come closer and the ruins of St. Declan's Church with its carved religious scenes –  Adam and Eve in the Garden of Eden, the Judgment of Solomon, the Visit of the Magi – emerge from the ancient landscape.  The scenes were used to help teach the local community about the Christian faith.  This carved church wall is three hundred years older than the church itself, dating the carvings to the 9th century.  The wall was actually brought to the site from another ruined religious site that had fallen into decay, so this spot on the hill at Ardmore is its second home.
Almost unnoticeable is the small 8th century oratory built over the spot where St. Declan is believed to be buried. It lies just below the ruined church – hemmed in by graves, both old and recent.  Headstones and grave markers occupy nearly every bit of available ground space around the ruins. Some new shiny granite, some old limestone with faded inscriptions, and some merely jagged stones set atop a lump.
The wild beauty of the landscape around the monastic site is mirrored on the nearby cliffs where a pilgrim's walkway has been carved out.  The path leads to the village and St. Declan's holy well.
Remnants of by-gone spiritual hunger and discovery still cling to the old ruins at Ardmore.  The stones hold the memories  of faith, of sorrow, of devastation, of joy, of celebration.  It is the presence of those memories stored in the ruins that dissolves the veil separating the past, present and eternal worlds. All are knitted together and the elements – the sky, the wind, the sea, the stones – seem brighter, and somehow more vivid.
Ardmore is a thin place, and is on our Thin Places Mystical Tour of Ireland this September.  Come join us.